Therapy Max utilises Cook + Phillip's unique facilities to deliver an innovative rehabilitation & sports injury services and providing:
• Treatment for sports and work-related injuries.

• Rehabilitation of complex musculoskeletal problems /injuries.

• Lifestyle solutions to regain or maintain health and preventative strategies for competitive and recreational athletes.
Therapists use the most up to date practices, utilising both mainstream & alternate therapies to achieve faster, more effective results for our clients. After careful assessment and diagnosis, treatments are implemented as required and may include exercise prescription, skilled manual therapies, education & advice.
Situated alongside Therapy Max's treatment rooms are Cook + Phillip's facilities including: 50m, leisure and hydrotherapy pools, gym, sports court, gym and aquatic exercise classes, indoor sports competitions, swim school & club, café and outdoor rest areas.

Conveniently situated in Sydney's CBD, next to Hyde Park and St Mary's Cathedral, the centre is 10 mins walk from Town Hall, St James and Kings Cross stations. Bus routes from Circular Quay and the eastern suburbs pass close by. Inexpensive parking is next door in the Cathedral Street parking Station.

Please ring or e-mail to speak with our qualified & professional staff or just call to book your appointment today!
Therapy Max services:
PHYSIOTHERAPY
Manipulative, Sports & Rehabilitation
MASSAGE
Sports, Remedial, Relaxation, Pregnancy
HYDROTHERAPY
Aquatic Physiotherapy
PERSONAL EXERCISE PRESCRIPTION
Gym & Home programs
EXERCISE CLASSES
Rehabilitation classesGroup physiotherapy classes

Therapy max can assist in common & complex problems such as:
Sport & lifestyle injuries
Work strain & headaches
Arthritis & inflammatory conditions
Neck & back pain
Surgical rehabilitation
Nerve & neurological Injury
MVA & Whiplash
Pregnancy, chronic diseases & general fitness
Therapy Max
Cook + Phillip Park
4 College Street
Sydney NSW 2000
Tel: 02 9356 3877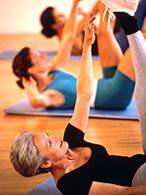 Click on photo for Fit Backs Class info

Click on logo above for more centre information